Ahead of Jinping's visit, Chinese civilians intrude into Ladakh area
PTI | Sep 15, 2014, 07.23 PM IST
LEH/NEW DELHI: Ahead of President Xi Jinping's visit,
Chinese civilians in government vehicles have entered Indian territory in Demchok in Ladakh and are preventing locals from working on an irrigation project there.
The Indian government sought to downplay the reports while maintaining that the boundary question would be discussed with the Chinese side.
"This is true that for the last one week, China is objecting and protesting against the work on an irrigation project in Demchok village which is close to the Line of Actual Control along with China border," Leh deputy commissioner Simrandeep Singh said.
He made these comments in the wake of reports that the
Chinese army had entered Indian territory and stopped the local villagers from work on the irrigation project under the NREGA scheme.
Singh said the
Chinese civilians from a village across the LAC called 'Toshigang' were brought in government vehicles in large numbers to prevent the locals from working on the project.
Asked to comment on the issue, external affairs ministry spokesperson Syed Akbaruddin said the "brave sentinels" on the border will address any issue that happens on the border. Whatever happens there, they will handle it, he said.
Regarding issues on the table, Akbaruddin said the unresolved issues including the boundary question and questions about the media reports would be addressed.
Meanwhile, the Army refused to comment on the media reports about the villagers.
Chinese President Xi Jinping meets National Security Adviser Ajit Doval in Beijing
A brigadier-level flag meeting was held in Chushul earlier on Monday where the issues of incursions and face-offs are learnt to have been raised by the Indian side.
Sources in the Army headquarters said the meeting was scheduled earlier and had nothing to do with any specific incident.
On 17th, I look forward to welcoming President Xi Jinping in Ahmedabad. Am sure his visit will strengthen India-China ties.
Narendra Modi (@narendramodi) September 15, 2014
File photo of Narendra Modi and Xi Jinping
IMeanwhile, the Army refused to comment on the media reports about the villagers.
​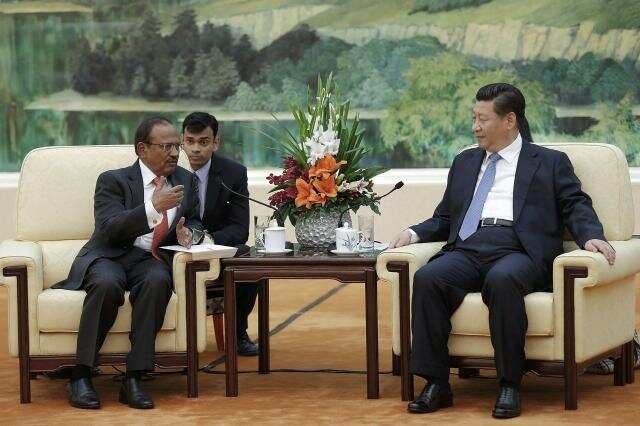 Chinese President Xi Jinping meets National Security Adviser Ajit Doval in Beijing (Reuters Photo)
http://timesofindia.indiatimes.com/...ude-into-Ladakh-area/articleshow/42545616.cms