Mawra Hocane visits Ranbir Kapoors mother to wish her happy birthday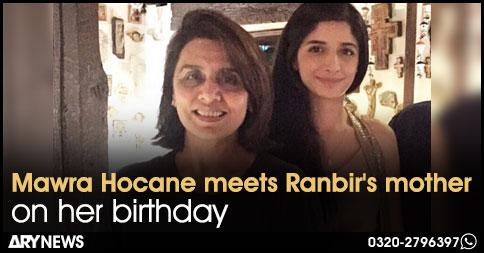 Pakistani model and actress Mawra Hocane posted pictures of herself partying with Neetu Singh, wife of Rishi Kapoor and mother of Ranbir Kapoor, on the occasion of her birthday.
Mawra Hocane seems to be having the time of her life in India these days. After nabbing a project in India for which she has commenced shooting, the actress also got a chance to mingle with Neetu Singh, that too on Neetus birthday!


Mawra had personally visited Neetu Singh on her 58th birthday and wished her. The Pakistani beauty took to her tweeted the link to her Instagram post, where she had uploaded a picture from Neetus birthday bash.




Mawra Hocane is busy shooting for an upcoming film which stars Tekugu actor Telegu actor Harshvardhan Rane as the male lead beside her. According to Mawras earlier indications, the movie is a beautiful love story which will captivate the audience to no end. The film is expected to be released by September of this year.
Ranbir Kapoor had earlier recorded a short video for Mawra Hocane (on her request) and also expressed the desire to meet her, earlier this year.
Mawra Hocane seems to be on a roll these days. Lets hope the soon-to-be Bollywood actress keeps on befriending Bollywood celebrities one by one. Oh, and good luck for her Bollywood debut!
http://arynews.tv/en/mawra-hocane-visits-ranbir-kapoors-mother-to-wish-her-happy-birthday