KARACHI: ARY News has received the copy of the document suspending the PIA official, who had upgraded the 'maid' of PM's family to the Club Class in a London-bound PIA flight on Tuesday, ARY News reported.


According to details, government officials, who have developed a habit of fostering the VIP culture, are sometimes compelled to do it. If these officials do not give protocol to VIPs then an action is taken against them, whereas one also lands in trouble for providing unnecessary protocol to the same VIPs.

One such instance took place with Sabir Hussain, the supervisor of the PIA passenger service, who was suspended for three days and was banned from entering into airport premises during this period.

A case was registered against Sabir Hussain for illegally facilitating the maid of PM Nawaz Sharif's family, causing financial loss to the national airliner and unjust use of authority.

Sources told that PIA personnel have serious concerns over the suspension of Sabir Hussain. The officials have said that the prime minister, chief ministers and other higher government officials are given protocol and if it is an offence, then a ban should be imposed on it formally.

Here it is pertinent to note that PM's wife, Mrs Nawaz Sharif, daughter Maryam Nawaz Sharif along with her three children and a maid named Rubina, had boarded London-bound PIA flight PK-757 on Tuesday morning, during which the maid was called from the Economy Class and accommodated in the Club Class.

ARY News had reported this first of all, after which the maid named Rubina was asked to return to the Economy Class and the PIA official Sabir Hussain was taken on task for providing unnecessary protocol.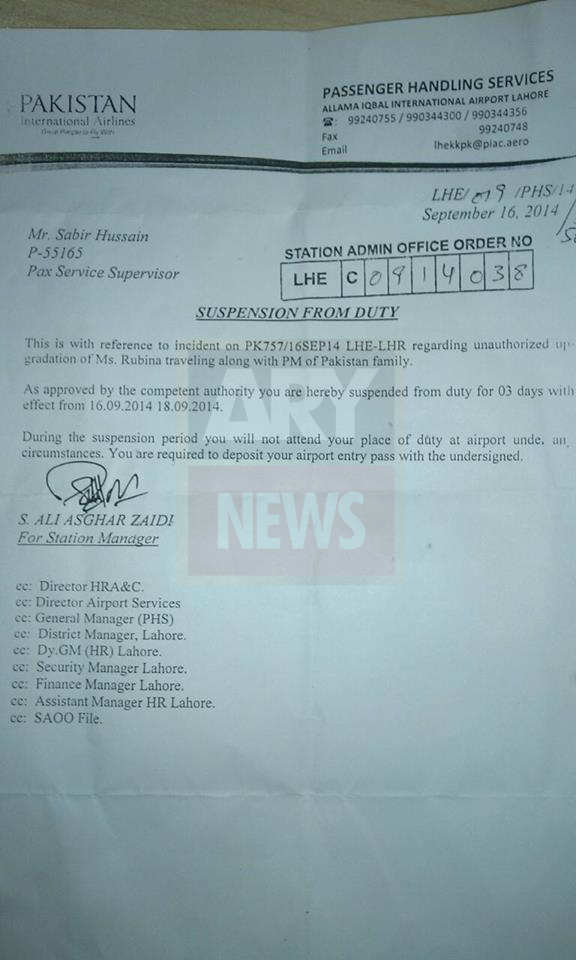 Maryam Nawaz in her tweet had criticized ARY News for misreporting and disseminating news in contrast with the facts; however ARY News today received the copy of the document suspending the PIA official Sabir Hussain, which is sufficient enough to elaborate the entire story to our readers.

- See more at: http://arynews.tv/en/pia-controvers...suspending-pia-official/#sthash.xm4SRugJ.dpuf