India Inc fails to touch 50% mark on PM's toilet target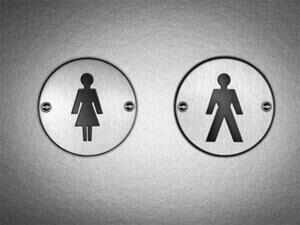 The bench also rejected the explanation given by the state that there has been some compliance but it requires more time to comply with all the directions.


NEW DELHI: Corporate India and public sector undertakings are likely to fail Narendra Modi government's ambitious plan to have toilet in each and every school. With the August 15 deadline fast approaching, HRD ministry has decided to take help of state governments and if need be get directly involved in construction of toilets.

A senior HRD official said, "Eleven big corporates, 67 public sector undertakings including banks had taken the responsibility of constructing toilets but barring few, most have not yet reached even 50% mark." He said many companies have told government that due to fear of Naxal violence toilets cannot be constructed.

"But not all toilets fall in Naxal dominated areas. We have been let down," he said. The official also explained that though it expects corporate groups and PSUs to fulfill the obligation it is unlikely that it will happen.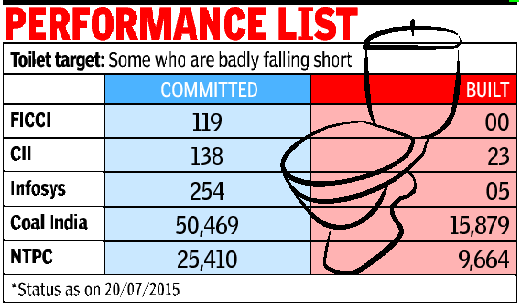 HRD ministry's data as of Monday showed that out of 138 toilets to be constructed by Confederation of Indian Industries (CII) only 23 have come up so far. Infosys Foundation was to construct 254 but have constructed only five. Mahindra Group has done better: It has constructed 671 out of 1,214 toilets approved for them. Tata Consultancy Services is among the best.

It has put in place 1,157 toilets out of 1,537 it had to construct. Some like FICCI has not constructed even a single toilet. It was to construct 119 toilets. Similarly, Titan Company Limited and Tata Steel also failed to construct even one toilet.

PSUs were asked to construct 1,47,548 toilets but so far only 49,577 have been constructed. Coal India had committed to construct 50,469 toilets but only 15,871 have come up. NTPC has completed only 9,664 toilets out of 25,410 assigned to them. Airports Authority of India has constructed a little over 10% of the toilets it had agreed to build. Rural Electrification Corporation has made only 3,795 toilets out of 14,626 it was to construct.

http://timesofindia.indiatimes.com/...on-PMs-toilet-target/articleshow/48152940.cms