Chief Minister (5k+ posts)
US military denies aircraft was in Iranian airspace amid strained relations with Tehran after last week's oil tanker attacks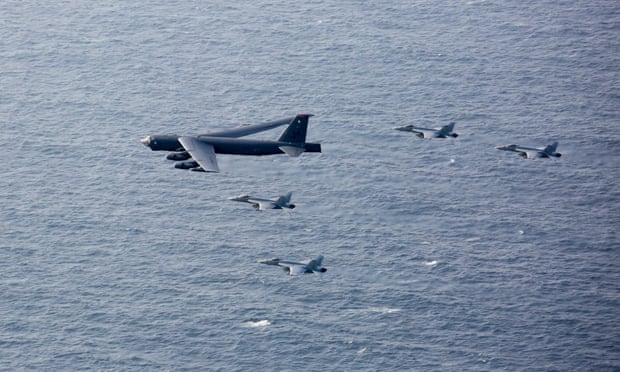 Iran has shot down a US drone in the strait of Hormuz, raising already heightened tensions in the region.
Iran's Revolutionary Guards said on Thursday they had shot down what they called a US "spy" drone they claimed was flying in in the country's airspace.
The US military confirmed that one of its drones had been taken down, but said it was in international airspace.
The dispute came as US president Donald Trump was briefed on the details of a separate incident: a missile strike in Saudi Arabia that appeared to come from Iran-backed Houthi rebels in Yemen.
Tensions in the Gulf have been heightened since 13 June, when the US
accused Iran of attacking two tankers
in the the Gulf of Oman with mines. The US military released footage it said showed the Iranian military removing an unexploded mine from the side of one of the tankers.
The state news agency said the downed drone was an RQ-4 Global Hawk. "It was shot down when it entered Iran's airspace near the Kouhmobarak district in the south," the Guards' website added. An unnamed US official told Reuters the drone was a US Navy MQ-4C Triton.
A senior Iranian security official said on Wednesday Iran would "strongly respond" to any violation of its airspace. "Our airspace is our red line and Iran has always responded and will continue to respond strongly to any country that violates our airspace," the semi-official Tasnim news agency quoted the secretary of Iran's Supreme National Security council as saying.
White House spokeswoman, Sarah Sanders, said on Wednesday in relation to the Saudi missile strike: "We are closely monitoring the situation and continuing to consult with our partners and allies."
Iran-aligned Houthis in Yemen, who ousted the Saudi-backed internationally recognised government in late 2014, have stepped up missile and drone attacks on Saudi cities in the past two weeks.
Last week the US military accused Iran of firing a missile at another drone that responded to the oil tanker attacks near the Gulf of Oman.
Source
ایران نے آبنائے ہرمز کے قریب امریکی ڈرون مارگرایا، واشنگٹن پوسٹ

تہران: امریکی اخبار واشنگٹن پوسٹ نے ایران کی جانب سے آبنائے ہرمز کے قریب امریکی ڈرون مارگرانے کا دعویٰ کیا ہے۔

امریکی اخبار واشنگٹن پوسٹ کے مطابق ایران نے آبنائے ہرمز کے قریب امریکی ڈرون مارگرایا۔ پاسداران انقلاب نے امریکی ڈرون آر کیو 4 گلوبل ہاک ایران کے صوبہ ہرمزگان کے علاقے کوہ مبارک میں گرایا۔

امریکی سینٹرل کمانڈ کے ترجمان کیپٹن بل اربن نے فی الحال اس معاملے پر کوئی بھی تبصرہ کرنے سے انکار کردیا ہے۔

واضح رہے کہ ایک ہفتے قبل بھی خلیج عمان میں امریکی ڈرون کو نشانہ بناکر میزائل حملہ کیا گیا تھا جو ناکام رہا تھا۔ تاہم تہران نے ان حملوں کی ذمہ داری لینے سے انکار کردیاتھا۔
​
پاسداران انقلاب نے امریکی ڈرون صوبہ ہرمزگان کے علاقے کوہ مبارک میں گرایا، واشنگٹن پوسٹ
www.express.pk
Advertisement
Last edited by a moderator: