Saeed Ajmal
, the Pakistan offspinner, has said that he has been working on a new type of delivery, which he will bowl in the series against England early next year. Ajmal told
PakPassion
that he didn't get a chance to experiment with the delivery during the World Cup 2011 and was now saving it for the England series in the UAE.
"I didn't bowl it (in the World Cup) because I wanted to stick with my best and most reliable deliveries in such a high profile tournament," Ajmal said. "I'm saving it for the series against England." He refused to reveal any details about the new delivery calling it "top secret".
Ajmal had a successful tour of the West Indies earlier this year where the home batsmen struggled to pick his doosra on pitches that spun sharply and tested the wicketkeeper as well. Ajmal felt that
Mohammad Salman
was impressive behind the stumps on the tour.
"Mohammad Salman was able to do a great job. The wickets in the West Indies for the Tests were very difficult for wicketkeepers, as there was a lot of turn and bounce, but Salman did an excellent job. Adnan Akmal is also a very impressive and tidy wicketkeeper. These guys are very competent."
Ajmal and Mohammad Hafeez also had their bowling actions being called into question by some West Indies commentators on the tour but he brushed them aside. "They can say what they want but the ICC has cleared our actions and of course umpires and referees are there too. It's within the rules. As far as Hafeez is concerned, he does not even bowl the doosra. He bowls a very good delivery that goes straight on and batsmen find hard to read.
"Commentators can say all they want, but all those who have been cleared by the ICC are still bowling. Harbhajan and Botha have had their actions queried in the past and are still bowling. I really don't know why they keep targeting us."
Ajmal, currently playing for Worcestershire, said that he has been working on his batting as well. "Shahid Aslam, who was serving as the assistant manager and batting coach, has worked with me on my batting. It's beginning to pay off. Here at Worcester too, I've been working on my batting with the coaches and hopefully, we'll continue to see an improvement."
Ajmal will turn 34 in October but said that he has not thought of retirement at all. "My aim is to become Pakistan's best bowler and also, to be the top bowler in the world. Only after that will I consider retiring from the game.
"I plan on creating an academy for youngsters in my home city of Faisalabad. I want to give something back to cricket and give young players an opportunity to learn the game and refine their skills."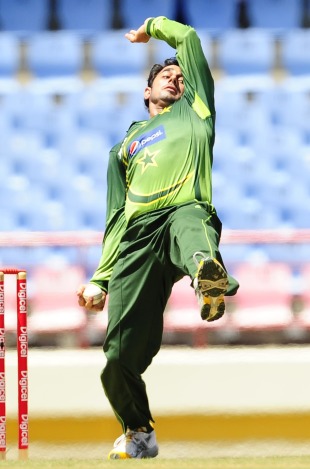 courtesy:
http://www.espncricinfo.com/pakistan/content/story/529490.html