Chief Minister (5k+ posts)
Well, does science move the world or arts just makes it round, because otherwise it would have been too flat to move....? is a perennial question, which has indefinite explanations.... rather "relative explanations", yet no conclusive answers.

But yet, all it means in the end, is not being 'correct' but how do you fancy to decipher the "image" of everything around you. Yes, actually there are no facts, just explanations. Lets take the Newtonian physics as an example, which once ruled the world, but was eventually proven flawed-- The Law of Gravity by Newton is false. Gravity is still something unknown to man, even till date, like many other things around us. So we may think that we know something, but we really may not. However, still that law is taught at high school and whats more surprising is that it is very much applicable in quite highly technological industries, like space, aviation, automobile and so on...

The only reason for its dominance over the others lies not in the degree of its accuracy of definition, but to the degree of its comprehensibility to a layman.

After Newton, Einstein tried to explain gravity, which was, to some degree more correct, but even Einstein' s postulates were quashed by Quantum Mechanics, which was superseded by String theory, which further got criticized by the Super String theory..... and the journey of understanding the "Fact" keeps unfolding with the time. Yes, we may think that we know the "Definition" of Gravity, but actually, it is only an "Explanation", underscored by time, space and human knowledge and nothing "Definite" in itself. Who knows what tomorrow brings?

Arts, on the other hand is another contestant in the arena. It is rather more grappling to confute it because it exists not only in proportionate definitions, but in abstractions as well. It deals with feelings as well as senses. It signifies beauty, which has even a more "relative" explanation, than scientific laws and principles. What may be very likable for me may be very unlikable for someone else.

Science and arts do not exist in silos. Scientific discovery and/or invention is capitalized for commercialization. It then evolves into a professional skill, which eventually culminates into an art. Like surgery is a science, doing surgery correctly is a skill but doing it "beautifully" is an art. Art does not only rest in entertainment and recreational activities, it implies itself in every field of life and it is more thriving in humankind than science, because science is somewhat tied to knowledge, but to feel beauty, one may only need to be living in senses. So, it is quite difficult to establish something correct, incorrect, false or true in arts. Yet it fascinates our imagination, it sets our choices, it develops our tastes, shapes our "selves" and our outlook towards life. It drives our approach and it evokes a sense of emancipation, it provides a means of catharsis. It has more to do with human nature, than human beings alone.

Now there are some interjections in the field of knowledge, which are either both claimed by science and arts or either not known to either. The birth of "Social Science" takes place, where either arts subdues to certain principles or the scientific laws start to melt down. On contrary, it might be a totally different setting, where science and art amalgamates into a new premise. Social Science proclaims to derive results from the interactions of mind and matter. It is very diverse in existence and very subtle in its form. Where sciences and arts are brought together, the permutations are endless. It may manifest itself in the hardcore form of Administrative sciences, which govern our industry, establishment and courts, or it may also reveal itself so subtle and intricate in the form of "Neuroeconomics". But overall, it underpins the ideology of converting things from useful to beneficial. Making a car is a science, inducing aesthetics in its design is an art, but from making this car more salable to setting rules of it for driving on the road, all is encompassed under various shades of these social sciences.

Yet again, the determination of something being totally right or wrong. The bamboozling thing about the social science is that there may exist two different explanations of a fact, and both may be applicable, with results. Either you go for Theory X, Y or Z, they all remain applicable, yet so mutually divergent. So the boundaries of absolution are also blurred here.

The question of being right or wrong, is governed by our belief, rather than knowledge. It is something which is fabricated by the yarn of wisdom, rather than knowledge, experience, observation or the degree of personal likability. However, the system of belief does not necessarily underline a necessity of a religion. Yet, it requires a definite and an absolute set of values, which exhibits in our morals.

Why I argue that it does not require an underpinning of a religion because the interpretation of many religious rituals might have emanated from the seat of fear or providence in a human rather than by the absolute rationality of right or wrong. Voltaire said that.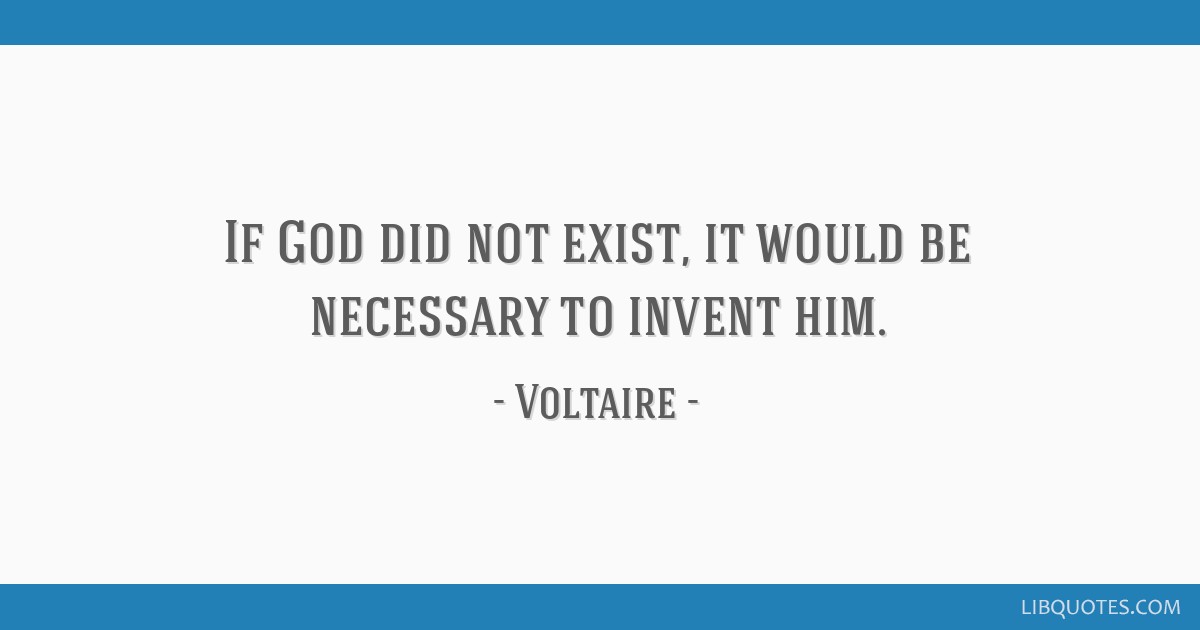 Now this underlines the human nature and the evolution of a religious system. A man, living in this universe is always threatened by the acts of nature over which he has no control, like storms, famine, earthquakes etc. and therefore he creates a super-human entity, which he thinks has the power to save him from these calamities and bad luck. Now this type of super-human entity is the God of Fear, who punishes in the form of calamities and bad luck, if not worshiped. On the other hand, the man is also greedy and things of joy and subsistence in affluence beyond his means are always a lure. This sort of a person may turn to a God who provides riches, food, fame, luxuries, progeny, partner, health and life, power etc, if worshiped. This sort of a God is the God of providence.

Many a religion, if not all have sprung from these two factors of human greed and fear. Furthermore, many of the true religions have also been tainted by many modifications based on these two human emotions. This explains the further divisions in religions, into sects, casts and other differentiating factors.

Here, we still find ourselves at the crossroads differentiating between right and wrong and how should we approach such a question? The God of Provision and The God of Punishment, both seems to be related to the human desires and fear and their following necessarily underlines one of these two human emotions.

One cannot resist to quote Allama Iqbal here, before dwelling down to a conclusion

​
Here, there exists a third type of entity, which Iqbal is referring to. I will like to call it the God of Love and immense Grandeur. A God who loves His creation and Who created without limitations and any flaw. However, this type of entity manifests in a person, when he starts looking around in awe and starts exploring the links between the existence of mankind and the cosmos. The bounties and provisions one is already disposed off with and the wonders in the creations around, makes one ponder to imagine such an entity, which is free from flaws and limitations and has already given man so much.

Now this state can be achieved through any form of knowledge, whether arts, science and/or social science. It is where the religion or a moral set of values starts making sense, beyond the sublimity of reward, punishment and/or personal gratification. But to reach such a premise, one needs to work his way up through active observation, knowledge and understanding. Even the worst known atheists come to a conclusion like Darwin




It is a state where one absolves the dispositions of any scientific or non scientific paradigm to be utterly an explanation, of what could be sensed more clearly without any evidence, proof or rationale. It is where one understands the meaning of life, which is to support and promote the life around.

No good atheist will ever be able to give you a reason that why we should speak the truth? or why honesty is the best policy? why shall one help the others in pain?

Though, the reason is well understood in sublimity of the mind, where reason rules without any influences of gratification or fear. It is a place which can only be achieved through wisdom and understanding, supplemented by knowledge (not necessarily institutionalized knowledge). But to be in contact with that sublimity, one needs to free his conscience of any false paradigms and "explanations" of all sort and rely solely on reason and the reality, we live in.
It is just about paying a little heed. ​
Advertisement