Saudi woman seeks to put women in the driving seat
By Michael Buchanan BBC News, Jeddah
Najla Hariri says there is no law against women driving, only society's convention
A Saudi woman has taken to the road in a direct challenge to the country's ban on female drivers.
Najla Hariri started driving around Jeddah last week. She is believed to be the only woman regularly driving in a Saudi city.
The 45-year-old says she was inspired by the protests taking place elsewhere in the Middle East.
"Enough is enough", she told the BBC as she drove around the city. "I have the right to [drive]."
Ms Hariri holds a driving licence from both Egypt and Lebanon from her time living abroad, and also has an international licence that she uses when she drives in Europe.
Start QuoteIn this society I am a little bit brave - I am not scaredNajla Hariri
"There is no law against women driving. It's society's [convention] that says women are not allowed to drive."
'Not scared' The mother of five has the support of her husband and says her daughters and their friends are very proud of her.
She knows, however, that she could be stopped at any moment by the police.
"In this society I am a little bit brave. I am not scared," she says.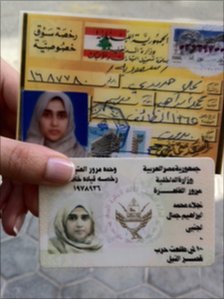 Najla Hariri says she was inspired by the Arab Spring protests
In some desert areas of Saudi Arabia, women are understood to drive occasionally, but it is virtually unheard of for a woman to take to the road in a major city.
Opponents of women driving argue that it's safer for females to have a male in the car with them, and that they are honouring their women by sparing them the strain of driving.
"They are lying to themselves," replies Ms Hariri forcefully. "It is safer for women to drive themselves. We have four million foreign drivers [in the country] and we'd like to get rid of them and drive ourselves."
Ms Hariri admits she did not want to be at the vanguard of efforts to give women more freedoms.
She returned to Saudi Arabia two years ago and was tempted to start driving immediately.
She found herself stuck at home with two cars but no driver, as her husband and eldest son were both away. "But I waited for the right time; I waited for other ladies to [go first]," she says.
Start QuoteWe are focusing on spreading the word - women here don't know their rightsNajla Hariri
As no-one stepped forward, she has decided that now is the moment.
"Before in Saudi, you never heard about protests," she says.
"[But] after what has happened in the Middle East, we started to accept a group of people going outside and saying what they want in a loud voice, and this has had an impact on me."
Facebook campaign Najla Hariri's challenge to Saudi society is part of a wider effort for greater female participation in the whole of society.
A Facebook page is encouraging women to come out and drive on 17 June.
Other women are pushing for the right to vote in municipal elections scheduled for September, while there are also calls for women to get permission to sign legal documents.
Aalia, a 19-year-old university student, is co-ordinating some of the online reform efforts.
"We are focusing on spreading the word, raising public awareness," she says. "Women here don't know their rights."
http://www.bbc.co.uk/news/world-middle-east-13431562