[h=1]Blackberry Passport introduces dual-control keyboard[/h] By Leo Kelion Technology desk editor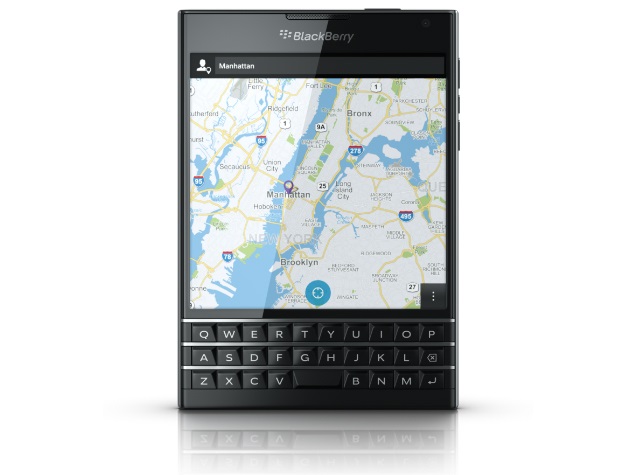 Blackberry has launched a distinctive handset featuring a square screen and a keyboard that offers both physical keys and touch-enabled gesture controls.

It said work-focused users in particular should benefit from the Blackberry Passport's innovations.
Sales of the company's handsets - which are powered by its own operating system - have been in decline.
Analysts said the new device should appeal to existing Blackberry owners but might struggle to win over others.
The Canadian company's chief operating officer said the handset's release was part of a broader turnaround strategy led by John Chen, who became chief executive in November.
"You're going to see us be very focused," Marty Beard told the BBC.
"Potentially, in the past we got a little too broad a little too aggressively.

The Passport's unusually wide screen makes it possible to see the full width of documents in larger type than in rivals

"Our target segment is more enterprise-focused. It's the power professional. It's someone who wants to be productive.
"Those users tend to be in regulated industries like banking or healthcare or government. We know those segments really well - in a way it's getting back to the Blackberry roots."
Push and swipe
The Passport got its name because its dimensions resemble a thick version of the travel document.
It has a 4.5in (11.4cm) touchscreen with a resolution of 453 pixels per inch - higher than Apple's iPhone 6 Plus, but lower than Samsung's Galaxy Note 4.
Blackberry suggests documents are easier to edit because of the extra width provided by having a square screen, even if it is less suited for watching video.
The keyboard buttons are also touch-sensitive. This allows gesture-based shortcuts that were previously restricted to Blackberry's all-screen devices.
For example, swiping a finger quickly leftwards along the keys deletes the previous word, while sliding a thumb along them more slowly moves the cursor in the same direction.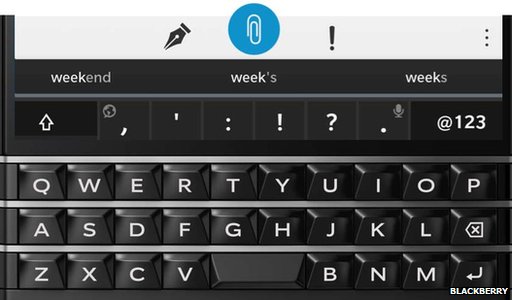 Flicking up on the left, middle or right-hand side of the keyboard selects the word above

In addition, users can select from three anticipated words - shown near the bottom of the screen - by flicking upwards beneath the desired one. This saves having to type the text in full.
"In some cases it takes a while to learn it, because even if you're familiar with a Blackberry it's a little bit different because it's that combination of physical plus virtual," acknowledged Mr Beard.
"So there may be that learning curve in the beginning, but it's well worth it, and once people learn it they are flying."
One expert who has tested the handset supported the claim.
"It certainly made me respond more eloquently to emails rather than just triaging them with a 'Yes, no, I'll call you back or see you later'," said Shaun Collins, founder of the telecoms consultancy CCS Insight.
"However, it's going to divide opinion - it gives you the Blackberry experience on steroids. But for a broader audience it will be a curiosity."
The phone is being sold at an "introductory rate" of $599/529/649 euros.
Sales slump
Blackberry's own figures indicate it sold about 1.6 million smartphones over the three months to June.
That compares poorly with the 6.8 million handsets it sold in the same quarter in 2013, and 13.2 million over the corresponding period in 2011.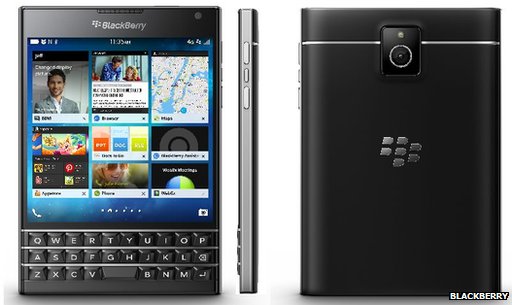 The Blackberry Passport can run both Blackberry 10 and Android apps
Its fortunes contrast with the wider smartphone market, which has expanded.
Having pioneered the sector, the company now accounts for only 1% of sales in the UK, according to research firm Kantar Worldpanel.
Even so, one company watcher said Blackberry still had appeal to certain organisations, even if they had not purchased its other recent releases in large numbers.
"The key markets it holds are financial services and security-oriented industries," said Martin Bradley from Strategy Analytics.
"Blackberry continues to offer the most secure end-to-end communications architecture in the mobile market, and its devices provide business users with that reassurance."
Voice commands
Other features introduced by the handset and its new operating system - Blackberry 10 OS 10.3 - include:
Access to the Amazon Appstore - the phone can run the 240,000 Android apps it contains. But the store lacks some popular products, including photo-sharing network Instagram, and newly released games, such as Fifa 15, both found on Google Play

Blackberry Blend - this allows certain tasks on the phone to be controlled by a wi-fi-connected PC or tablet that does not store the data involved, letting users take advantage of bigger screens when available

Blackberry Assistant - a facility that recognises voice commands and speaks back in English, French, German, Spanish and Italian

A 3,450 mAh battery - this is bigger than most of its rivals, and allows the Passport to promise up to 25 hours of mixed use

Blackberry Blend allows the phone to be controlled by a larger connected device
The company has also added a new, tougher level of encryption to messages sent via its BBM messaging app to protect them from eavesdropping and manipulation.
"We've already got a lead - we're not going to sit on our laurels," said Mr Beard.
He added that Blackberry also intended to add encryption to voice calls made between its devices in the future but it was "still to be decided" if this function would come to the Passport.
http://www.bbc.com/news/technology-29328135