Taliban kidnap 30 Pakistani boys in Afghanistan: Officials
By AFP
Published: September 2, 2011

Afghanistan shares a disputed 2,400-kilometre border with Pakistan where senior militants are believed to reside. PHOTO: REUTERS/FILE
KHAR: Taliban militants have kidnapped more than 30 Pakistani boys who had mistakenly crossed the unmarked border in the northwest into Afghanistan, officials said Friday.
They said the incident took place on Thursday after the group of boys, aged between 12 and 18-years-old, visited the area of Gharkhi in Bajaur tribal region for celebrations marking Eid.
These boys inadvertently crossed into Afghanistan while picnicking on the second day of Eid and were kidnapped by militants, senior local administration official Syed Nasim told AFP.
Afghanistan shares a disputed 2,400-kilometre border with Pakistan where senior militants are believed to reside.
Another administration official speaking anonymously said security forces were stretched thin along parts of the frontier.
It is a porous border and security cover is not available everywhere, he said.
غلطی سے سرحد عبور، طالبان نے 30 یرغمال بنا لیے
​
دلاورخان وزیر
بی بی سی اردو ڈاٹ کام پشاور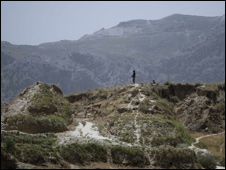 پاکستان کے قبائلی علاقے باجوڑ ایجنسی سے حکام کے مطابق افغان سرحد پار کرنے والے بچوں کو شدت پسندوں نے اغوا کر لیا ہے جبکہ کئی بھاگ کر واپس آنے میں کامیاب ہوگئے ہیں۔
باجوڑ ایجنسی میں مقامی انتظامیہ کے ایک اہلکار نے بی بی سی کو بتایا کہ پاکستان اور افغانستان کے سرحد کے اوپر ایک سرسبز و شاداب پہاڑی سلسلے میں عیدالفطر کی خُوشی منانے والے درجنوں بچے غلطی سے افغان سرحد کے اس پار چلے گئے تھے۔ ان میں سے تیس بچوں کو طالبان نے پکڑ لیا ہے۔ غلطی سے سرحد پار کرنے والے بچوں میں کئی بچے بھاگ کر واپس آنے میں کامیاب ہوگئے ہیں۔
انتظامیہ کا کہنا ہے کہ افعان سرحد کے اوپر غاخخی پاس اور کگاہ پاس قدرتی طور پر بُہت خوبصورت پہاڑی سلسلے ہیں۔ اس جگہ مانوند قبائل ہر خُوشی کے موقع پر اس پہاڑ پر سیر کے لیے جاتے ہیں۔ انہوں نے بتایا کہ اس عید الفطر کے خوشی کے موقع پر بھی سینکڑوں بچے سیر کے لیے ان پہاڑوں پر گئے تھے۔
اہلکار کا کہنا تھا کہ ایک سو سے زیادہ بچے غلطی سے افغان سرحد کے اس پار چلے گئے تھے۔
مُسلح شدت پسندوں نے جب ان کو یرغمال بنانے کی کوشش کی تو ان میں بڑے عمر کے بچے بھاگ کر واپس پاکستان کے علاقے میں داخل ہوگئے۔
اہلکار کے مطابق دس سے پندرہ سال کے تیس بچوں کو شدت پسندوں نے یرغمال بنا لیا ہے۔
انہوں نے بتایا کہ یہ واقعہ عید کے دوسرے دن پیش آیا تھا لیکن بچوں کے والدین نے اس واقعے کو اس لیے چھپانے کی کوشش کی ہے تاکہ طالبان سے کسی طرح مذاکرات کامیاب ہو جائیں۔
انہوں نے کہا کہ مانوند قبائل کے عمائدین اب بھی جرگے کے ذرایعے بچوں کی رہائی کی کوششوں میں مصروف ہیں لیکن ابھی کسی قسم کی کامیابی نہیں ہوئی ہے۔
واضح رہے کہ افغان کے سرحد کے اس پار افغانستان میں کنڑ کا صوبہ ہے جہاں بھی موموند قبائل کی ایک بڑی آبادی ہے۔ بتایا جاتا ہے کہ اس صوبہ میں طالبان شدت پسند دوسرے علاقوں کی نسبت زیادہ منظم ہے۔
​