At the moment, with the crisis triggered by Covid-19 the markets are focused on survival, which is masking the impact of increased dollar dominance and its adverse effects.
In good times, if large parts of the world denominate transactions in dollars, it's extremely convenient. But in a crisis, this over-reliance can be a problem because there may not be enough dollars to go around. Although central banks can help with liquidity in their local currencies, in some jurisdictions, it's a bigger challenge to help businesses with dollars, as highlighted by two Credit Suisse research reports.
The first problem is liquidity, but the second related issue is the significant foreign exchange risk. In a crisis like the current one, the dollar is getting stronger across the board. In the last two weeks, the U.S. dollar has strengthened by 5.3% against the Euro, 5.9% versus the Swiss Franc, 7.7% against the Japanese Yen and a whopping 13.9% versus the British Pound.
Read more here:
Covid-19 shows adverse impact of dollar dominance especially in emerging markets. Would a basket central bank digital currency (CBDC) help?
www.ledgerinsights.com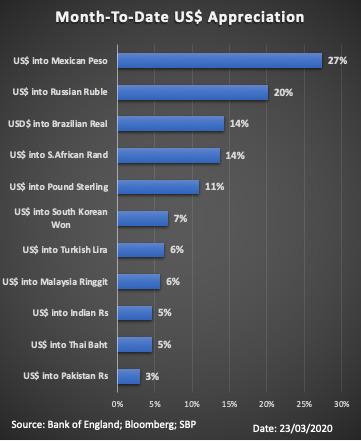 Last edited: