Chief Minister (5k+ posts)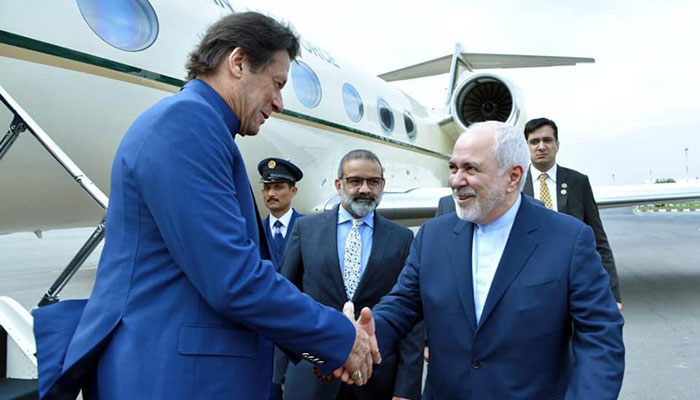 ISLAMABAD: Prime Minister Imran Khan arrived in Tehran on Sunday on a one-day as part of his initiative to promote peace and security in the region.
Iranian Foreign Minister Javad Zarif received the prime minister at the airport.
The prime minister during his visit would meet with the Iranian leadership, including Supreme Leader Ayatollah Sayyed Ali Khamenei and President Dr Hassan Rouhani during his visit.
Besides the issues relating to peace and security in the Gulf, PM Imran will discuss gulf security issues in meeting with Khamenei, Rouhani.
Foreign Minister Shah Mehmood Qureshi and Special Assistant to PM on Overseas Pakistanis Sayed Zulfiqar Bukhari are accompanying the prime minister.
This will be the prime minister's second visit to Iran this year.
The prime minister also had a bilateral meeting with the Iranian president on the sidelines of the 74th UN General Assembly session in New York last month.
PM Imran last month said that both the United States and Saudi Arabia had asked him to mediate with Iran to defuse tensions in the Gulf.
There have been a spate of still unexplained attacks on shipping in and around the vital seaway involving Iran and Western powers, as well as drone attacks on Saudi oil installations.
Washington accused Tehran of attacking the vessels with mines and to be behind the drone assault, something Tehran strongly denies.
On Saturday, Javad Zarif welcomed efforts for mediation with Saudi Arabia ahead of Prime Minister Imran Khan's visit to the country.
"We've always been open to discussing anything with Saudi Arabia. Saudi Arabia is our neighbor. We're going to be here together permanently," Zarif said in
an interview
with
TRT World
.
The confirmation came after the Foreign Office on Thursday said PM Imran was likely to visit Saudi Arabia and Iran, weeks after Islamabad said Washington had asked it to mediate with Tehran.
The announcement of the possible visit comes after PM Imran last month said that US President Donald Trump had asked him to help defuse tensions in the Middle East.
The prime minister, after a meeting with the US president on the sidelines of the United Nations General Assembly in New York, had said that he was "trying and mediating" and had also spoken with Iran's President Hassan Rouhani.
Washington had blamed Tehran for an attack on the world's biggest crude oil processing facility in Saudi Arabia a few weeks ago.
PM Imran said Pakistan was willing to play its role towards strengthening regional peace and stability

www.geo.tv
Advertisement
Last edited by a moderator: