Prime Minister (20k+ posts)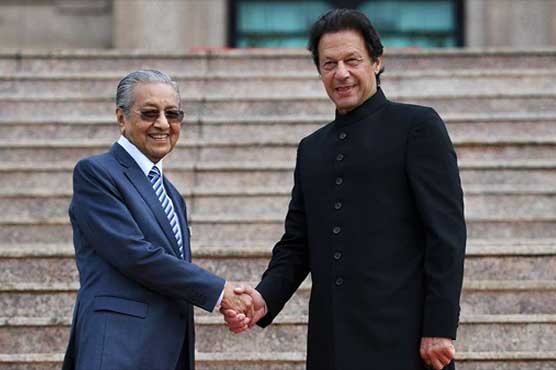 The investments would come in different sectors of economy including telecoms, IT and food.
ISLAMABAD (Dunya News) - Pakistan is set to sign deals worth $900 million in telecoms, information technology during a three day visit by Malaysian Prime Minister Mahathir Mohamad.
Adviser to Prime Minister on Commerce and Textiles, Industries and Investment Abdul Razak Dawood said, "A memoranda of understanding covering $800-$900 million worth of investments with Malaysian investors would be signed on Friday."
The investments would come in different sectors of economy including telecoms, Information technology and food, he added. He said Pakistan and Malaysian companies would sign agreements of joint ventures (JVs) worth millions of dollars in telecommunication, technology, automobiles and 'Halal food sector.
"We believe Malaysia will be an opening for us to the ASEAN countries," he said, referring to the Association of South East Asian Nations.
Around 30 Malaysian business giants including leading telecoms and automobile manufacturing companies of the Asian region like eDoctco group, and PROTON Holdings would exchange Memorandum of Agreement (MoUs) with PMCL, Deodar pvt. Ltd, Telenor Pakistan, CMPak and with PROTON Holdings in automobiles sector.
The adviser said Pakistan and Malaysia would be interested in promoting business to business relations and would also strengthening the ties between the private sectors of the both countries for tapping investment opportunities.
He said now Asia was the center of gravity for economic growth and especially South East Asian countries including Malaysia, adding that Pakistan wanted to align and connect the local companies with them to learn the skills and knowledge.
"We will have long term economic and business relations with Association of Southeast Asian Nations (ASEAN) countries and Malaysia can provide opportunity for us to enter in the potential region of ASEAN to benefit the local economy," the adviser added.
Dawood said ASEAN was a market of estimated 651 million people, with an approximate GDP of US $3 trillion and high human development index.
Pakistan was ready to tap into one of the largest commercial hubs of the world, ASEAN, which had goods trade volume of around $ US2.6 trillion, service volume of around US $ 703 billion while it had US $ 136 billion in Foreign Direct Investment (FDI) during the past couple of years, he said.
The Advisor said PM of Malaysia and Pakistan would grace the Pak-Malaysia Investment Round Table scheduled on the March 22 and the events would be attended by top business leaders as well as policy makers of both countries including eDotco group, PROTON Holdings, Petronas, Telenor, Zong, Mobilink, Alhaj FAW and Fauji Food.
Mahathir is scheduled to arrive in Islamabad on Thursday evening and will be the chief guest at the Pakistan day parade on March 23.
Pakistan has been seeking financial assistance and calling for investment from friendly countries, while also negotiating a bailout package from the International Monetary Fund (IMF).
Both Saudi Arabia and the United Arab Emirates have each offered Islamabad loan packages of $3 billion.
During a visit in February, Saudi Crown Prince Mohammed bin Salman signed investment agreements worth $20 billion with Islamabad, including a $10 billion refinery and petrochemicals complex in the southwestern port city of Gwadar.
Pakistan has also been trying to get loans from neighbouring China, which has pledged nearly $60 billion for energy and road and rail infrastructure projects as part of the Belt and Road Initiative (BRI), known as China Pakistan Economic Corridor (CPEC).
In February the government said it was close to securing an IMF package, its 13th bailout since the late 1980s, but while talks between the two sides are ongoing no deal has been agreed.
Source
Advertisement