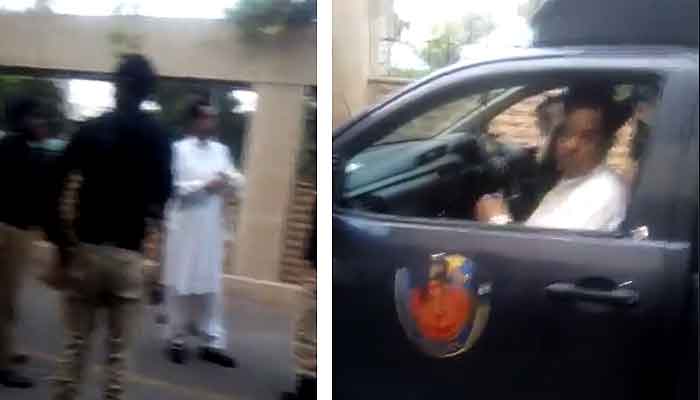 KARACHI: Senior PML-N leader and son-in-law of former prime minister Nawaz Sharif, Captain (retd) Safdar was arrested from a hotel in Karachi on Monday.
Maryam Nawaz posted a video on her Twitter account claiming that the police forcefully entered her hotel room earlier today and arrested her husband.
"Police broke my room door at the hotel I was staying at in Karachi and arrested Capt. Safdar," the PML-N leader wrote on Twitter.
The PML-N leader was taken into custody after he was booked in a case pertaining to the violation of the sanctity of Mazar-e-Quaid where he had chanted the slogan "vote ko izzat do (honour the vote)" and urged people to join him, while on a visit to the mauseoleum with Maryam Nawaz.
Party workers and supporters had responded to Safdar's call and chanted along for an extended period of time as Maryam Nawaz and party spokesperson Marriyum Aurangzeb looked on.
The move was met by a fierce reaction by government representatives who not only demanded an apology, but approached the police, asking them to initiate legal action against all those who participated in the act.
The police lodged a case on the complaint of a citizen at Karachi Brigade police station today.
According to sources, Capt Safdar has been shifted to an undisclosed location.
PTI representatives go to police
A group of PTI representatives, including Haleem Adil Shaikh and Raja Azhar, rushed to the Brigade police station on Sunday to lodge a case against the PML-N leadership.
According to the request, a copy of which was seen by Geo.tv, the police have been asked to file a case against Capt Safdar, Maryam Nawaz, Marriyum Aurangzeb.
The Station House Officer has been requested to bear in mind that the PML-N top tier leadership violated the sanctity of the mausoleum by crossing the metal barrier placed around the grave and chanted slogans that not only disrespected the site but also hurt the sentiments of the people.
It stated that the incident occurred around 5:30pm and was broadcast not only locally but also by foreign media outlets.
"This not only prompted angry citizens to take to the streets, but law enforcement was prevented from taking any action, which is against the law," the request states.
It said that interference in the government's course of action is a "grave crime".
The request, signed by MPA Raja Azhar Khan, asked that legal proceedings be undertaken against about 200 people present there who took part in the act.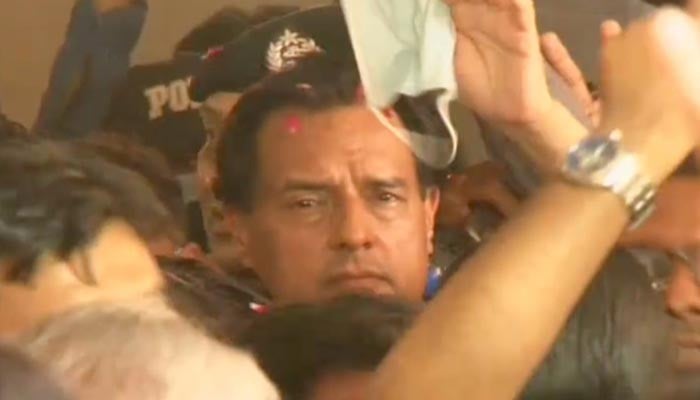 Captain Safdar was arrested from a Karachi hotel after being nominated in a case lodged at Brigade Police Station

www.geo.tv